Profile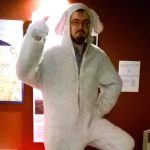 Adam Washington
Curriculum Vitae
Education

Bachelor's degree in Physics from Purdue University Master's degree in Physics from Indiana University Ph.D. in Physics from Indiana University

Qualifications

I went to school in the USA, so we didn't have GCSE's

Work History

My first few jobs were the usual hodge-podge of odd jobs during school. Scooping frozen custard, doing tech support, and inventorying books. After graduating from university, I did a couple of brief stints as a software developer before going to graduate school, where I intermittently worked as teaching assistant while building a neutron instrument. After that I went to the University of Sheffield, where I spent a couple of years studying bird feathers and beetle scales before taking up my current position at the ISIS Pulsed Neutron and Muon source maintaining a much more advanced version of the neutron instrument I build back in Indiana.

Current Job

I am an Instrument Scientist at the ISIS Pulsed Neutorn and Muon source. I help visiting scientists perform experiment on the Larmor beamline. Larmor is a neutron instrument for measuring a wide range of small lengths in samples. Depending on our setup, we can go from 25 microns (about the thickness of a single wool fibre) down to 0.001 Angstroms (100 times smaller than an atom).

Employer

The ISIS Pulsed Neutorn and Muon source is a research facility in Harwell, Oxfordshire.  Protons are accelerated to 84% the speed of light, then smashed into a tungsten target.  The protons smash the nuclei of the tungsten atoms, allowing the neutrons to escape.  We then use these neutrons to perform measurements on scientific samples.
Favourite thing to do in my job: I love tuning our instrument. It's rewarding to know that everything it working and the graphs that come out are just beautiful to look at.

About Me: I'm Adam and I help other scientists do their research. I also enjoy playing Minecraft and watching the worst possible movies with my spouse.

My Work: I build and maintain special instruments for visiting scientists to perform various measurements and experiments with. These visiting scientists come from all over the world to our lab in Harwell. By using our instruments and working with myself and fellow scientists, visiting scientists can then further understand their own work through joint effort, from melting chocolate to beetle wings. They are world experts in their fields and with our combined expertise we can explore areas of science that neither of us could do alone.

My Typical Day: I arrive in the morning and talk with our visitors about the measurements that they made overnight. We try and understand what they've learned and what that implies for what we should examine next. If this means any changes for the instrument, I'll try and help the users get everything into a better configuration. I'll the let them continue with the experiment for a few hours while I talk with other users about either planning their upcoming experiments or helping them understand the data that they collected during their visit. I'll also spend some time working with other scientists and staff in the lab to maintain and improve our instrument.

What I'd do with the prize money: I would like to donate the money to the Lightyear Foundation, a foundation that is really important to me in a few ways. One, my spouse is someone who grew up with learning disabilities and was often treated as though they could not enter the STEM field, but ended up becoming a teacher, which inspires me every day. Two, because of my own struggles with autism, I know that tactile education for people with disabilities can be one of the biggest gateways to getting kids who may feel left out interested in STEM. The Lightyear Foundation is dedicated to not leaving kids like myself or my spouse behind and so am I.

My Interview

What or who inspired you to follow your career?

This feels silly, but I wanted to be like Dr. Sam Beckett on the show Quantum Leap. He was smart, funny, and got to use his knowledge to help people. Also, he was the only character on TV from Indiana that wasn't an idiot.

What was your favourite subject at school?

Honestly, my favourite course was maths. Most of the science classes felt like busywork and I didn't understand how important some of that tedium was. And, now that I'm a scientist, I know that some of those days really were boring for no reason!

What did you want to be after you left school?

I wanted to be a scientist, because I loved learning science and wanted to keep at that, but I honestly didn't really know what that would mean.

Were you ever in trouble at school?

I was usually the one fixing trouble around school. By the time I graduated, I'd managed to acquire a master key for the building and the master password to the security system. There was not point in causing trouble, since anything I broke would just be my job to fix again.

Who is your favourite singer or band?

I tend to listen to power metal bands like Sonata Arctica and Nightwish. Unfortunately, that kind of Heavy Mithril gives my spouse a headache, so rgey've been trying to get me to listen to other artists. I've been particularly enjoying Common as of late.

What's your favourite food?

A proper Chicago style pizza is one of the finest foods in the world.
---
---