Profile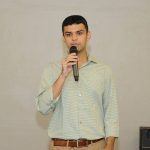 Varun Ramaswamy
Curriculum Vitae
Education

I went to school in India and so we didn't have GCSEs or A-levels. Instead, we had AISSCEs at the end of high school (senior year). Senior year subjects: Biotechnology, Maths, Physics, Chemistry and English.

Qualifications

I did my Bachelors in Genetic Engineering (in India) from 2012-2016. Then I moved to the University of Washington, Seattle, USA for an internship on working with proteins in Stem-cells (2016). After that, I moved to London where I did my Masters of research in Molecular Biophysics at King's College London from 2016-2017.

Work History

I have worked in tutorial companies to set question papers for maths and physics exams and olympiads. I have also been a private tutor in physics for high-school students for a couple of years. Lastly, I have been and still am a performing musician (part-time).

Current Job

I am currently a PhD student at the Institute of Cancer Research (ICR) in London, where I am trying to find the shapes of defective proteins in cancer cells, to help design medicines to treat cancer.

Employer

I am a student at the Institute of Cancer Research, which is ranked as the 4th leading cancer research institute in the world. It is also the largest cancer research centre in Europe.

Since 1909, the ICR has been been making discoveries to defeat cancer, and in 2011, they discovered the first drug in the world that can treat prostate cancer, even in the advanced stage.
Favourite thing to do in my job: Solving scientific mysteries using mathematical clues!

About Me: I can describe myself in 4P's- PhD student, Poet, Pianist and Percussionist.

Read more

I am from India and have been in London for the last 3 years. I am currently a PhD student at the Institute of Cancer Research in London. My job is to solve scientific puzzles for a living, and I love solving puzzles. I also love teaching, writing poetry, playing the piano and the south Indian drums. I am a rapper and I release my songs online and perform at open-mic events. In my spare time, I like playing squash, swimming or reading Japanese comics.

My Work: Have you ever wondered what "proteins" look like? I work on finding the shapes of the millions of proteins in our body. The tricky part is- they are so tiny that I can only see their shadows, even when I use a microscope. My job is to figure out what they really look like in 3D, by using only these shadows as clues.

Read more

Proteins are everywhere in your body, and to understand how they work, we have to know how they look. But how do I do that using only their shadows?

Shadows contain unique clues about the shape of an object. If I held a Pringles can in front of a lamp, I can tell that its shadow on the wall would either be a rectangle or a circle (depending on which side of it faces the lamp). So imagine I gave you about 100,000 shadows of more difficult and unknown shapes. Would you be able to put them together to figure out the 3D shape of the object that made them?

Sounds like a fun puzzle, doesn't it?

My Typical Day: I get to work by 9am, and it takes an hour to travel. So I usually plan my day while travelling, by writing down my thoughts on my phone. Before I start working, I always have a hot cup of tea to get me going for the day. Then, I just put on my lab coat, turn on the radio in my lab and begin all the experiments I had planned. I barely notice the time fly. I take an hour's break for lunch before continuing with work. I am usually done by 5 or 6pm.

Read more

Most of my days at work are 9am-5pm, but sometimes they are as short as 4 hours or as long as 10. It really depends on what experiment I'm doing. When I work on the microscope, it is usually a short day. When I work with the protein shadows, I can even work from home on my laptop.

But the hardest part is getting the proteins in the first place. I get them from cells that I grow in the lab for a week. I have to feed them everyday and then get the proteins out of them using many steps, which can take 8-9 hours. That is because proteins are delicate, and I need to make sure I don't destroy them when I retrieve them.

What I'd do with the prize money: If I win the prize money of £500, I would use it to open my own tutorials for high school and undergraduate students on physics, chemistry and maths to help them understand science and enjoy learning it.

Read more

Science is filled with big words and scary equations. But the only thing you need to do to understand it, is close your eyes and imagine it.

You see, science is just a story about how our universe works, and maths is the language used to write that story. As a scientist, I understand the story and as a teacher, I narrate it to you in a language you can understand- no, not by using long sentences in a textbook, but by helping you picture it in your mind.

So if I do win the prize money, I would be able to invest in the technology to start my own online and offline tutorials where I can have interesting discussions, demos, chats and videos with animations for curious young students.

My Interview

How would you describe yourself in 3 words?

Ambitious, curious, passionate

What or who inspired you to follow your career?

My physics tutor during my last two years of school. I never used to like physics but the way he taught me actually made it exciting! Soon I found myself wanting to solve physics problems during my spare time, like it was a game or a hobby. It was really quite the turning point for me, because it showed me that a teacher has the power to make you love or hate a subject.

What was your favourite subject at school?

History (for the first 10 years) and Physics (for the last 2 years).

What did you want to be after you left school?

Well, I had a very broad range of interests when I was straight out of school. On one hand I wanted to be a rapper, but on the other hand, I also wanted to be a quantum physicist!

Were you ever in trouble at school?

Absolutely! I loved creating rhythm with anything I found, so as a kid, I used to tap on my books or on my desk with pencils. The funny thing is, sometimes I never realised that I was doing it. Naturally, my teachers weren't very happy about having a drum solo during their classes and they called me out quite a bit. Haha!

If you weren't doing this job, what would you choose instead?

If I wasn't a scientist, I'd most certainly be a lecturer in a university, because the only thing I enjoy as much as learning science is teaching science.

Who is your favourite singer or band?

ABBA, without a doubt! It's been 40 long years since they retired, but their music never gets old.

What's your favourite food?

Ahh, I would love me a good old garlic naan and some spicy Indian curry to go with it, anyday!

What is the most fun thing you've done?

Snorkeling in the Indian ocean!

If you had 3 wishes for yourself what would they be? - be honest!

Ooh this is a tough one. Let's see..I would definitely wish for 1) one of my songs going viral on the internet, 2) a decent Justice League movie in the near future and 3) a chance to be the voice-actor for a really good anime series.

Tell us a joke.

What kind of a car does an egg drive? A yolkswagen.
---
---