Profile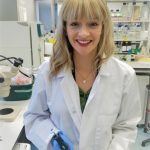 Rebecca Shaw
Curriculum Vitae
Education

Bridge of Don Academy (2005-2011) University of Aberdeen (2011-2015) University of Glasgow (2015-2016)

Qualifications

8 Standard Grades (As and Bs) Higher: English, Chemistry, Biology, Modern Studies, Media Studies and Psychology. Advanced Higher: English and Biology

Work History

I worked in restaurants and bars during school and university. During and after my masters degree I was a zookeeper at Edinburgh Zoo working mostly with penguins. I had voluntary research assistant jobs in Glasgow and South Africa. I still volunteer (as it looks good on your CV) for the RSPB and for STEM events.

Current Job

Research Technician at the University of Aberdeen. My role is rotational; I work in various research groups assisting the researchers with their projects. This allows me to learn a lot of new laboratory techniques, understand new concepts and meet loads of new people! My past work has looked into: Salmonella and how the bacteria that causes salmonella combats the bodies defence system, arthritis and the cellular mechanisms involved in the inflammation associated with the disorder and identifying fungal pathogens and how good they are at infecting people.

Employer

I work for the University of Aberdeen and I am based in the Institute of Medical Sciences on their campus next to the hospital. I work with professors, post doctoral professionals, doctors, students and technicians.

A lot of the researchers' work can be transferred into clinical medicine and that is why our building is based next to the hospital.

Our University won Scotland's Best University of the Year in 2019 and has great biological sciences, dentistry, medicine and natural sciences departments.
Favourite thing to do in my job: I love learning new things and helping others to learn too!

About Me: I'm Rebecca, a research technician within the University of Aberdeen. I am a Biologist, Conservationist and love animals and the natural world!

Read more

I live in Aberdeen just a short bike ride away from the beach! I love living where I do because you get the best of both worlds; a busy city and a nature haven all in one. When I am not at the lab working on experiments, you can find me scuba diving in the North Sea, hiking up one of Scotland's many Munro's or out in my garden with my cat (Hobbes).

From a young age I was passionate about nature and wildlife. It was only once I started studying Biology at university did I realise my interest in research and experimental work that has gotten me to where I am today. I've worked for animal charities, in zoo's and out in the field so to say my qualifications have taken me places would be correct!

My Work: My job is to help student researchers and scientists in doing experiments which need to be carried out for a certain reason. I have done experiments to understand how a bacteria fights off our immune systems and makes us sick, experiments to understand how stress affects our bodies and studied animal genetics to understand how they have evolved over time.

Read more

I'm a rotational research technician meaning that I rotate around laboratories and research groups that need help with their projects.

This is great for me, because in my time as a research technician I have gained a lot of experience in various experimental techniques and it means that I know how a lot of things work in my workplace.

I've worked in labs focused on fungal pathogens, musculoskeletal medicine, bacterial infections and developmental biology.

I am currently based in the latter of these placements. My PI is a professor in genetics and so we look at the affect certain genes have during development. Most of my day is spent in the lab; working on experiments, processing samples for analysis and organising the work space.

This is my lab space – as you can see it is full of samples!

Our microscope we use for looking at samples for dissection.

Some bacterial and fungal samples that I grew up and extracted the DNA from.

My job is very varied, which for me is great because I never really get bored. The only time I do, is on slow days when experiments haven't worked or I'm waiting for experiments to finish. On those types of days, I will try to sort out databases of what chemicals and reagents we have in the lab,  check if risk assessments for procedures are up to date and organise my lab notebook.

A great thing about working in a university is that you are always encouraged to learn. I have been on various training courses and workshops that look to build on my skills and knowledge to enhance my ability in my career. I attend these types of event at least once a month.

I am also actively involved in public engagement within the university and when the opportunity arises, I get to attend events aimed at telling the public about the research we carry out!

Another great thing about my work days is that I ensure I make time to have a break for coffee or lunch with a friend. The day always goes by quicker I do!

My Typical Day: I wake up at about 7 with a cup of coffee and leave to get into work for about half 8/9. I usually walk or cycle, but if the weather is crappy (which in Scotland it can be!) I get the bus. I start the day by reading my emails and catching up on what I have set myself to do for that day. I then ensure the lab is tidy and stocked before I start doing experiments. I usually have at least one or two projects involving experimental work, but if not I assist the students with theirs and help if they need guidance. I also attend seminars or meetings catching up with my work colleagues. Before I head home at 5pm, I make sure I've checked my emails and update my lab notebooks on what I've done for the day!

Read more

I normally wake up around 7 and have a coffee before getting ready for the day. My work isn't too far from where I live so I cycle, walk or get the free bus the university put on for staff and students to access the campus'.
Once I'm at my desk I check my emails, make another coffee(!) and plan out my day. I normally write myself lists the evening before I leave work of what I have to get done. This is just to make it easier for myself to remember! All I have to do then is fit it round my day depending how long some things can take.
A usual day can consist firstly of tidying the lab; making sure deliveries are put away and equipment from previous experiments are not cluttering the bench tops. I will then start setting up for any experiments that I have to start or finish if I have left them overnight. Recently, I have mostly been doing sectioning (of bits of tissue, organs), DNA/RNA extractions, DNA amplifications and immunohistochemistry.
This can take up most the morning, but I usually make time for a coffee break at about half 10/11.
In the afternoon, I finish off my experiments. Usually, experiments are in stages where you have to leave some things for a period of time. This can be quite a long process so I would normally be doing two different types of experimental work side by side.
I also regularly attend seminars put on by researchers within my institute to showcase what research they are doing. These are normally at lunchtime. Otherwise, I often have training courses to attend during the week such as microscopy or managerial workshops!
Other things I do during the day is catching up on emails, writing up experiments in my lab notebook and looking over results.
I also  make sure that I can catch up with my work colleagues over lunch or a coffee. On Fridays, we have lab meetings which are just a chance for the lab group to discuss the work they've been doing and how they are progressing. It also always ends up with us chatting and eating cake!
And then at 5pm its home time 🙂

What I'd do with the prize money: I would want to make sci comm more accessible for the schools around my area. We have noticed the lack of funding schools within our area have for attending these sorts of events and so I would do this by bringing interactive and interesting lessons to them!

Read more

I work for the University of Aberdeen and we are surrounded by local school, that when given the opportunity can come to visit us and enjoy a day within a laboratory being taught by our wonderful researchers. The University has a wide range of research going on; from trying to understand how bacteria make people sick to figuring out how our eyes have evolved to work. We want to share this with our community and get them excited about our scientific research and science in general as well as discovering potential career paths.

If I was lucky enough to win the prize money, I would put it towards this cause and it would help us to start buying equipment and materials to set up our idea of "Experiment in a box". This would work as a type of lending library, whereby any researcher could pick up a box with all the materials in it needed to deliver a fun and interactive lesson on a topic of science. This would make science outreach more accessible for our schools and allow us to deliver as many talks and workshops as we could!

My Interview

How would you describe yourself in 3 words?

Adventurous, caring and determined.

What or who inspired you to follow your career?

I don't think any one person or event did! I grew up watching wildlife documentaries and the passion and places these presenters explored really made me awestruck. When I was older, I started reading stories from Darwin, James Cook and Richard Dawkins. Their missions to explore and understand really drove me to pursue a career in research and science due to its endless possibilities. A lot of my colleagues have also inspired me to never give up as well.

What was your favourite subject at school?

Biology or english

What did you want to be after you left school?

I had loads of ideas! But mostly a vet or biologist.

Were you ever in trouble at school?

Yes, I got in trouble a lot for talking and not doing my work!

If you weren't doing this job, what would you choose instead?

Probably a vet!

Who is your favourite singer or band?

I love Kings of Leon.

What's your favourite food?

Pizza

What is the most fun thing you've done?

Ehhh thats a tricky one! I've loved learning to scuba dive, but I also climbed Mount Kilimanjaro for charity which doesn't sound it, but it was so much fun!

If you had 3 wishes for yourself what would they be? - be honest!

To be content in myself and not compare myself to others. To be more confident in myself. To find happiness in everything I do!

Tell us a joke.

why is a bee's hair always sticky? because it uses a honey comb....
---
---