Profile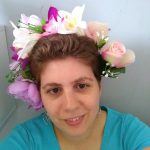 Anna Kalorkoti
Curriculum Vitae
Education

The Raleigh School, Horsley - Guildford High School - University of Cambridge

Qualifications

GCSEs: Maths, Biology, Chemistry, Physics, English Language, English Literature, History, German, Latin, Classical Greek A Levels: Maths, Chemistry, Physics, Psychology Undergraduate degree: Natural Sciences (Materials Science & Metallurgy)

Current Job

Materials Scientist
Favourite thing to do in my job: Trying new ways of doing things. It's always fun when someone asks me "Can we...?" & I get to answer "I don't know, but here's how I'm going to find out!"

About Me: I'm a materials scientist, tea-lover and Hufflepuff. I live in Guildford with my fiancée and an ever-growing collection of board games.

My Work: I do experiments on lots of different materials, to find out how they change when the world around them changes. For example, what happens when you make them really hot, or really cold, or put them deep underwater? Some of these materials are used to hide submarines, so that people who might want to attack the submarine can't find it.

My Typical Day: I do lots of different things in my job, so every day is different! I might be in my lab making plastic (which is a bit like making a cake), or using science equipment to see if a strong material can stay strong when it's as hot as the inside of a jet engine. I might be using a computer to help me do some clever maths, and work out things that I can't measure with my science equipment. I might be writing about the work I've done and what I've found out, or talking about it to other scientists, so they can use what I learned to help them make decisions.

What I'd do with the prize money: There is a "makerspace" club at my local library. People can learn how to write computer code, program robots, use a 3D printer, and do lots of other things. I would like to help them buy new equipment.

Read more

I think that STEM should be for everyone, and that you're never too old to learn something new. The Guildford Makerspace supports that: it is open to people of all ages, in an easily-accessible public place, and free to attend. People are able to develop new skills, learn from & teach each other, and use technology they wouldn't otherwise have access to. Above all, they get to work on projects that matter to them personally, showing how STEM can be useful & relevant to everyone's life.

My Interview

What was your favourite subject at school?

Chemistry or History. I was lucky to have really good teachers for both.

What did you want to be after you left school?

When I was in primary school, I wanted to be a cat breeder - really, I just wanted an excuse to own lots of cats (my parents wouldn't let me get a cat at the time)! Later, I thought I wanted to be a teacher. Around sixth form, I started thinking that I might want to be a scientist, but I had no idea what sort of scientist I'd be or even what options existed.

Were you ever in trouble at school?

A few times, for things like forgetting my homework or having the wrong PE kit

Who is your favourite singer or band?

Sara Bareilles

What's your favourite food?

All the cheese!

What is the most fun thing you've done?

Climbing outdoors, on rocks & cliffs - the view from the top is amazing. I also really enjoyed being part of the backstage crew in a bunch of amateur theatre productions while I was at university.

If you had 3 wishes for yourself what would they be? - be honest!

Unlimited tea; a working teleporter so I can easily visit friends who live far away; more wishes.

Tell us a joke.

What cheese is made backwards? Edam! (My girlfriend told me this joke on our first date, along with about a dozen other cheese puns. It must have worked, because we're now engaged! After several years, I've stiltons of love for her.).
---
---