Profile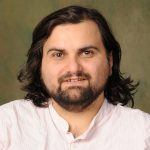 Alin Elena
Curriculum Vitae
Education

I went to school in Romania, in a small town of 22000 people. I went to Bucharest to study physics afterwards in 2000. In 2004 I moved to Queen's University Belfast to study for a PhD in Physics. This one i never submitted the thesis so in 2010 I went again to study for a PhD in Physics this time at University College Dublin, Ireland and graduated in 2013.

Qualifications

The system in Romania is slightly different, we do no have GCSE or A-levels but we have Baccalaureate at the end of 4 years of high school. I had to take exams in Romanian Language, English Language, Mathematics, Physics and Computer Science. I have a Bachelor's Degree in Physics from University of Bucharest in 2004 And a DPhil in Physics from University College Dublin in 2013.

Work History

First job I had in highschool was to write computer programs for an accountant. I used to have other odd jobs, like removing weeds from the vineyard of my parents. In university I worked for a while as system administrator for a computer network. I went to study for a PhD In Belfast at Queen's and their I used to teach students at university. After I moved to Dublin to work in Supercomputing for few years. Went to University College Dublin to do a PhD, then worked again in supercomputing and after I moved to Daresbury Laboratory. I have been here since 2015.

Current Job

Computational Scientist at Daresbury Laboratory, that is in Cheshire, the place where Lewis Carroll was born.

Employer

STFC Daresbury Laboratory. STFC is a big organisation in charge of the national laboratories in UK. We are also in charge of UK involvement at CERN in Switzerland.

The organisation is well know all over the world. We even have an wikipedia page https://en.wikipedia.org/wiki/Daresbury_Laboratory
Favourite thing to do in my job: solving new problems, programming

About Me: My name is Alin and I am physicist by training. I work at Daresbury Laboratory, somewhere in between Manchester and Liverpool.

Read more

I live in Warrington, Cheshire with my long time girlfriend. She is a scientist too. We spend time visiting other places in UK and around the world. We like to cook all kinds. We also garden which is fun when we do not have to fight with the slugs.

My Work: I spend my day programming to solve scientific problems, usually on a super computer.

My Typical Day: Usually I start early I tend to be in my office around 7:30. It is quiet and allows me to concentrate on doing things before the rest of my colleagues arrive. I spend time programming or reading papers, in general is just problem solving. Of course sometimes things go wrong and you need a lot of time to get them right. Around 6 pm I go home.

Read more

of course sometimes I need to take part in various meetings, conferences and workshops. That makes life interesting since you get to travel to various places and countries. You interact with people from different countries. For example now I work with people from England, Scotland, Wales, Argentina, Bulgaria, Ukraine, Italy, Germany, Luxembourg, Russia, Malaysia, India and I did not even mention the Londoners.

What I'd do with the prize money: I volunteer quite a lot to stem events and part will be used for that. We plan to build an earthquake simulator for schools and the rest will go there.

My Interview

How would you describe yourself in 3 words?

determined, eclectic and friendly

What or who inspired you to follow your career?

my physics and maths teachers were influential on my career choice.

What was your favourite subject at school?

i did not have one but main were maths, computer science and physics, I really liked history and geography too but really disliked chemistry which is ironic since i work mainly with chemists these days.

What did you want to be after you left school?

scientist.

Were you ever in trouble at school?

plenty of times. in high school we used to organise end of the term discos. Alcohol was strictly not allowed. We always use to bring in some and of course we used to get caught.

If you weren't doing this job, what would you choose instead?

computer programming probably or sheep farmer

Who is your favourite singer or band?

i like many, van der graaf generator is one of them, in general I listen all types.

What's your favourite food?

I used to love cheese unfortunately I cannot eat it anymore so I will settle on seafood pasta.

What is the most fun thing you've done?

built my own computer keyboard from scratch.
---
---